The oversized pieces of art on stage at the Festival of the Masters, a summer-night show in Laguna Beach, California, look as if they've been ripped off the walls of some of the world's most famous museums and art galleries. However, upon closer examination, it turns out that each masterpiece is an illusion. The blink of an eye or a slight shift in attitude and suddenly members of the audience are well aware that what they are looking at is a set of live paintingsor "live photos," and the characters in each piece are real people.
This eye trick has been drawing crowds from all over California and around the world for nearly a century. The Pageant of the Masters dates back to 1932, when local artist John H. Hinchman produced a summer festival for art lovers who happened to be in nearby Los Angeles for the Olympics. It proved so successful that the following year organizers added "Live Pictures" to the collection, which includes real-life replicas of a number of famous works, including James McNeill Whistler's 1871 oil painting titled Whistler's mother. The only difference is that the actress, who was fully dressed, with a lace handkerchief on her head, stood in the place of his mother, Anna McNeill Whistler.
The tradition of creating lively paintings dates back long before the competition, as historians trace it back to the Middle Ages. Vivid images developed from ancient Greek mythology and tradition, and were common ritual and ceremonial events at the end of mass during that period. In Victorian England, these performances were entertainment hall games. Live entertainment featured "characters placed, silent and immobile, for 20 or 30 seconds imitating famous works of art," according to the Chicago School of Media Theory. By the mid-19th century, the practice crossed the Atlantic into the United States, where it became a popular fashion. More recently, in the early days of the Covid-19 pandemic, the Getty Museum in Los Angeles challenged people to recreate famous works using the clothes and props they had on hand in quarantine.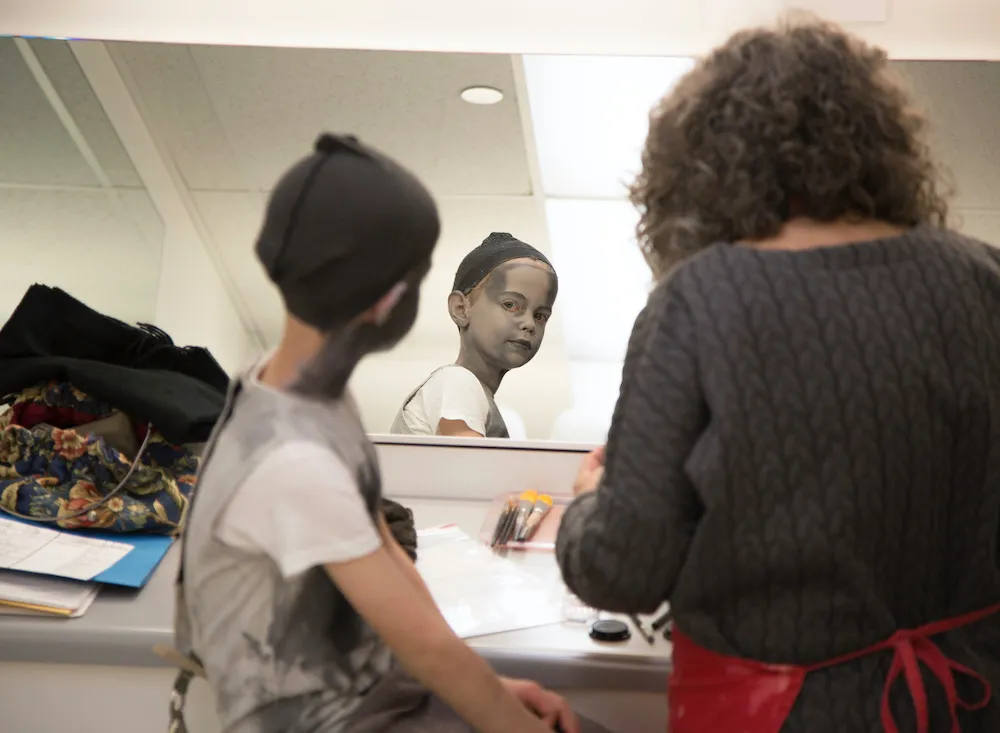 Fast forward to today, and the competition's 86th season is in progress, as part of the Laguna Beach Arts Festival, an eight-week art festival that includes a refereed art show, guided art tours, workshops, live music, and more. This year's event is especially special considering the 2020 Festival and Festival has been canceled due to the Covid-19 pandemic. (The only other cancellation in its history was a four-year hiatus during World War II.) As with previous seasons, it was staged outdoors in a theater located on the Arts Festival grounds. Some precautions for the Covid-19 virus are being taken at the festival. The competition, for example, boosted cleaning and disinfection protocols. Masks are optional if you have been vaccinated.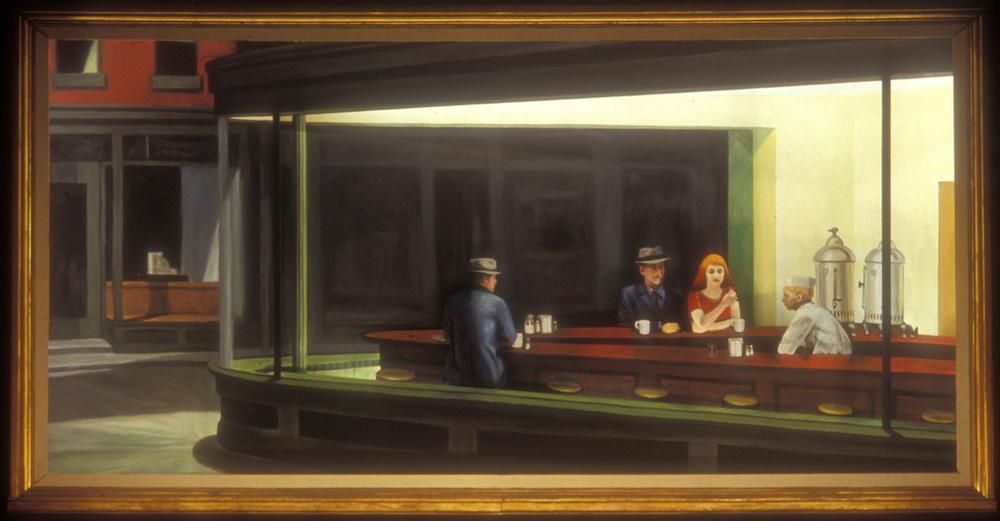 Every year the competition takes on a different theme. In 2019, when the show was held for the last time, the theme was "The Time Machine", and the competition toured past, present and future artworks as well as important art events in history, such as the 1913 Arms Fair, also known as the International – Gallery of Modern Art in New York. This year's theme, "Made in America," focuses on works created by American artists. In all, there are 40 different artworks performed on an outdoor stage, with each segment narrated approximately 90 seconds long before the stage crew seamlessly transitions to the next artwork while the live orchestra provides background music.
(This video from 2018 shows how to put Live Photo together.)
Some of the highlights from this year's event include night hawks by Edward Hopper Delaware Traffic By Thomas Sully trio sculptures entitled Hiawatha marriageAnd Emigrated And Cleopatra's death Written by Edmonia Lewis; And Lincoln Memorial Written by Daniel Chester French. However, there are some exceptions to the all-American lineup, including statue of Liberty Written by the French sculptor Frédéric Auguste Bartholdi and the show's long epilogue, Last Supper Leonardo Da Vinci.
As an attendee, I was able to go behind the scenes an hour or so before the show and saw many works of art up close on stage. But there was clearly something missing: the characters. While the execution of each landscape and scenery was impressive, it wasn't until I sat amongst the audience and saw the performers in their roles that each work of art really came out. There were times when I felt like I was in a museum watching originals and not in a theater surrounded by fellow art lovers.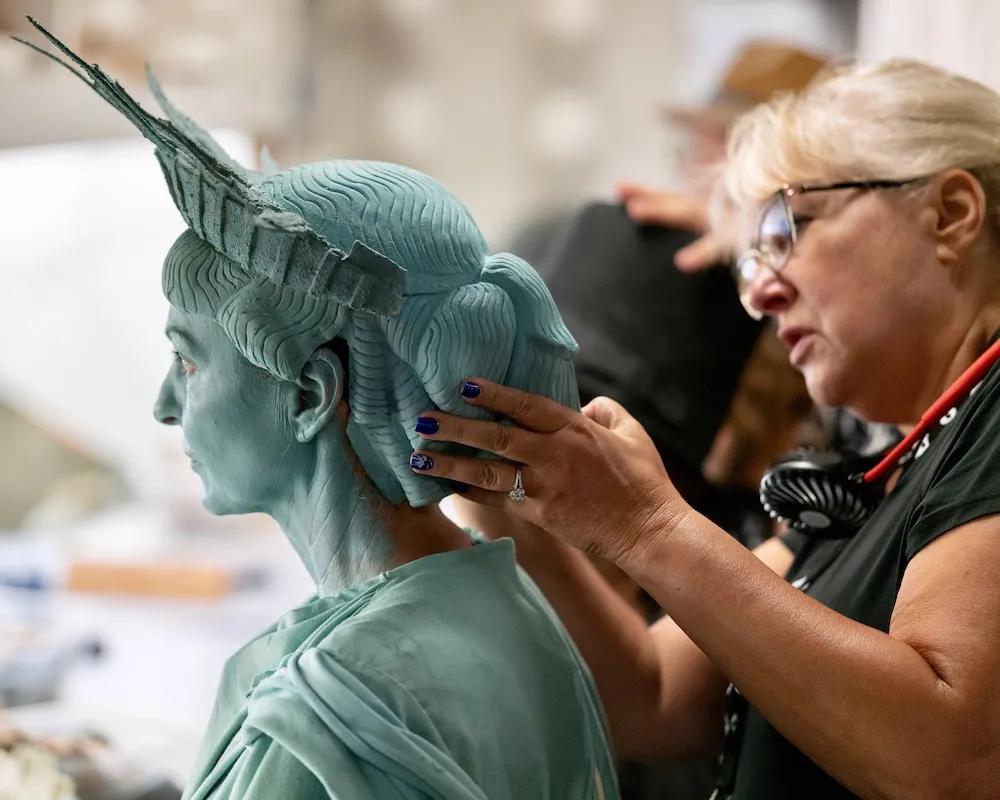 The responsibility for choosing a theme each year rests with Diane Challis Davy, who is celebrating her 25th season as contest director this year. (She made her beauty pageant debut as a volunteer cast member as a teenager in 1976, and appeared in tea party by illustrator Mary Cassatt.) Working a year ago, she chooses the theme, then, with the help of fellow competition staff members and volunteers, selects the artworks that will be in the final lineup.
"Screenwriter Dan Dowling takes pictures of each potential artwork and pins them to a bulletin board to create a storyboard," Challis Davey says. "We will bargain as to which should be included. We do not choose anything that we cannot physically recreate or think that we cannot do a decent job of procreation. We used to visit libraries to do our research, but now everything is available online and we have access to The art collections are huge and we can contact the museums directly for permission to do our recreations."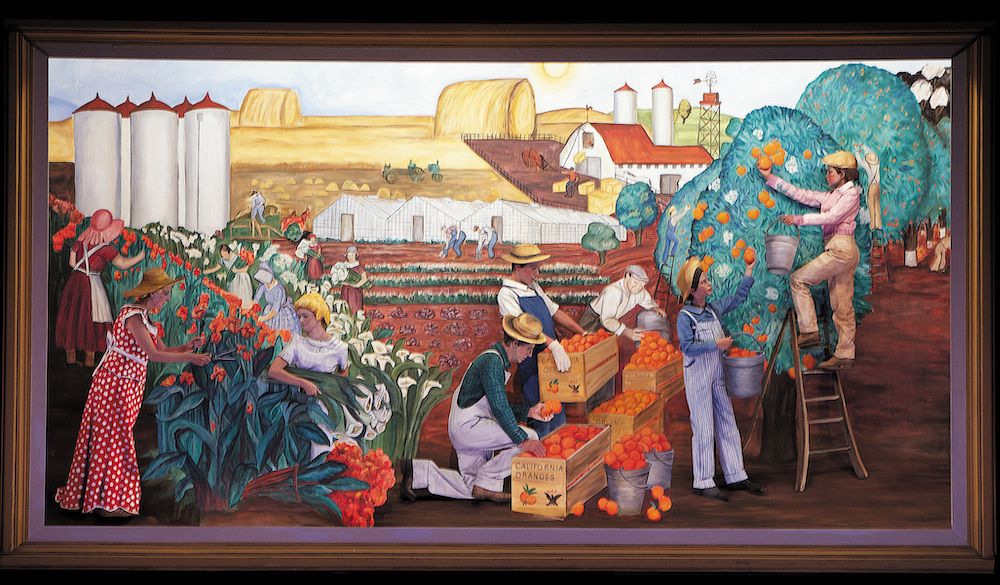 Once the collection is in place, a team of designers aided by Artistic Director Richard Hill creates the collections, each one replicating artwork down to the slightest brushstroke. Strategic lighting is used to transform each piece from 3D to 2D, eliminating any shadows the members might make during their 90-second performance. An oversized frame frames the scene. Fashion and makeup are also important to get the illusion right. Each costume is custom-made by a group of designers and volunteers using muslin, with each piece coated with a mixture of acrylic and latex paint in exact resemblance to the original artwork. Volunteer make-up artists use both make-up and body paint to ensure that the cast members resemble the subjects of the art. Digital projections and LED lighting are often combined to add the finishing touches before the curtain goes up.
The cast members are also volunteers, and many of them have returned to perform year after year, including Michelle Buhl, who made her first pageant debut in 1987 at the age of five. (It was her role in family gathering, pottery piece from Dresden, artist unknown.) Volunteered as a team member until 2019; This year marks her first pageant as a makeup director, and she leans back on her background as an artist. Although she is no longer in the cast, her husband, daughter, and son make regular appearances.
"Every year, the competition takes us back," Paul says. "It's a really family event, not just with my family, but the people working behind the scenes becoming a part of your Miss family."
Buhl remembers how standing on stage for 90 seconds at a time and maintaining the pose can be challenging.
"If you are Its easy pause, time passes quickly," she says. "When I was 14, I pretended to be the woman at Columbia Pictures [movie company logo]. I had to hold my arm at a 90 degree angle. Nowadays we have a motor where you can rest your arm, but at the time I had to raise my arm on my own. It wasn't easy, I was screaming inside."
Matthew Rollstona Hollywood photographer based in Hollywood, captured the cast members wearing full makeup and costumes for a new exhibition at the Laguna Museum of Art called "Matthew Rolston, Art People: The Pageant Portraits," On display until September 19. In a recent interview with CNN He says, "There is a sense of amazement at the illusion because what they do is amazingly well made. You really think for a few moments that you're looking at a work of art, and then you realize that humans are the ones who draw and dress. It is a simulation and an illusion – somewhere between humanity and the depiction of humanity. And this has an intrinsic and almost primitive charm to people."
This eye trick is what Challis Davey strives for, and to keep fans intrigued, she tries to include new artwork every season, relying on a few fan favorites that she reuses over and over again.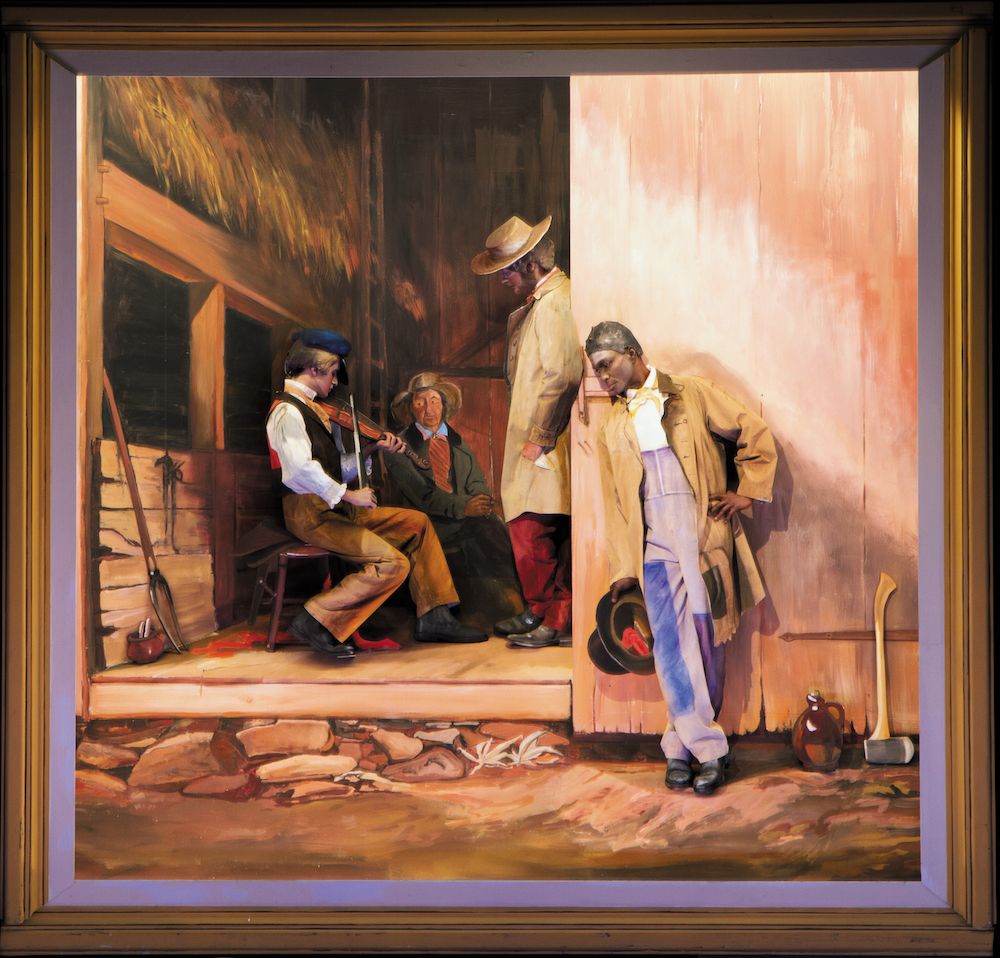 "It can take a long time to make 3D sculptures, like the Lincoln Memorial," she says. "It has become a tradition that da Vinci's 'Last Supper' is our finale. A seat at the table is desirable, and many gentlemen return to the same role from year to year, and some eventually appear for 25 to 30 years. They may not be the youngest of the apostles, but their heart is in him, and they love him."
The Masters Festival runs every night until September 3.
.