Balgo is the country for all of us now. We were all born here, these generations are here today. We are Wiremanu children. We belong to Balgo. This is what we call it. That's why we draw. This is our story."
Warlayirti artist Eva Nagomarra
John Carty opened his email and downloaded the photos. They were pictures of paintings found in a shipping container somewhere in the Kimberley. It was muddy and water damage, but recognizable.
Karti admits that he cried on that day in 2019. He has been searching for those paintings for 20 years.
The story of how to find the Balgo boards is mysterious, as well as the story of how to lose them. A man (unnamed) began emptying a container he had had for a while, to see the damage done by the recent floods.
There were paintings inside. He invited two of his colleagues, people who knew something about art, to have a look at them. These comrades had a glimmer of recognition. Then there was a phone call to the authorities, and an email with pictures of the paintings was sent to the city, to Karti, a Balgo expert.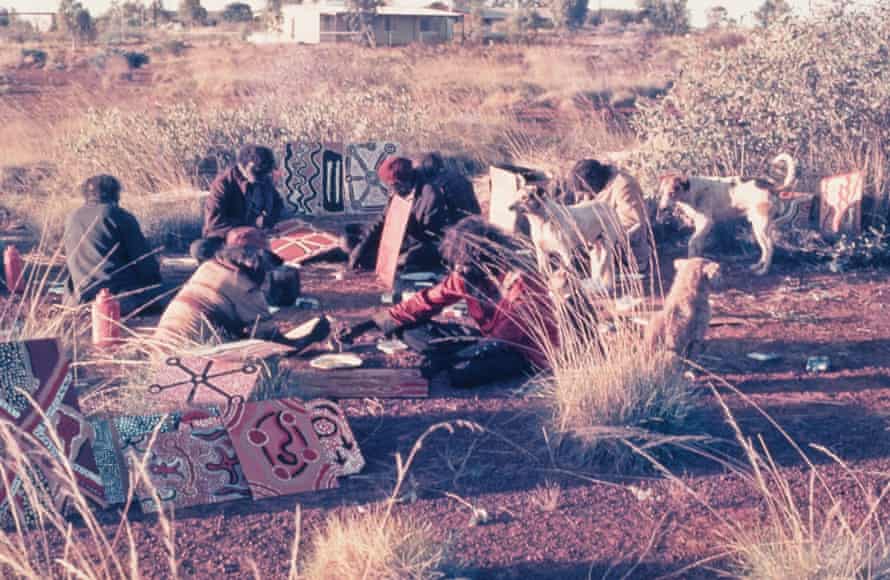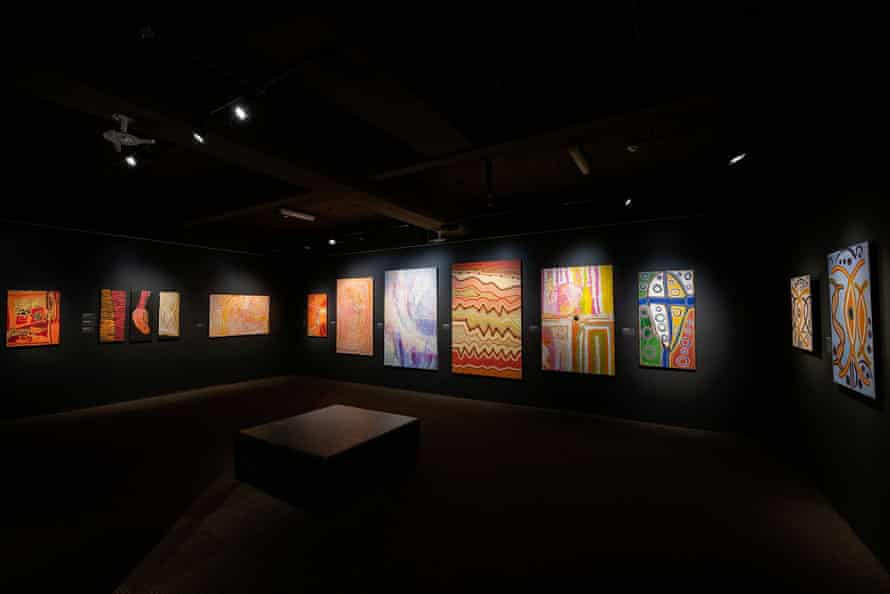 The Balgo Gallery was lost. The paintings representing one of the most important Australian art movements of the early 1980s have been stored, with the intention of displaying them for the first time. But opportunities for relatively unknown artists were scarce. Art faded away, forgotten in a corner of Kimberley—until some 40 years later, when it appeared muddy and moldy, but intact.
Balgo (Wirrimanu) is a remote Aboriginal community on the edge of the great sandy desert in Western Australia. Population: about 400.
The Balgo-born art movement spread across Australia, so even if you haven't seen Balgo art, you've probably seen its influence.
Carty is now Head of the Humanities Department at the Museum of South Australia. But at the turn of the century, he was trying to figure out what he should do to earn a Ph.D. He was studying anthropology at the University of Melbourne, but on his way to Canberra he picked up a magazine on the plane.
"I was just looking at these incredible paintings…these paintings from Balgo who just had such an amazing presence. It was a suggestive moment, sort of changed my thinking about Australia, and I really wanted to go there to understand these artists," he says .
So he wrote to Balgo artists, asking if he could volunteer at the arts center. He ended up staying for three years in the small community.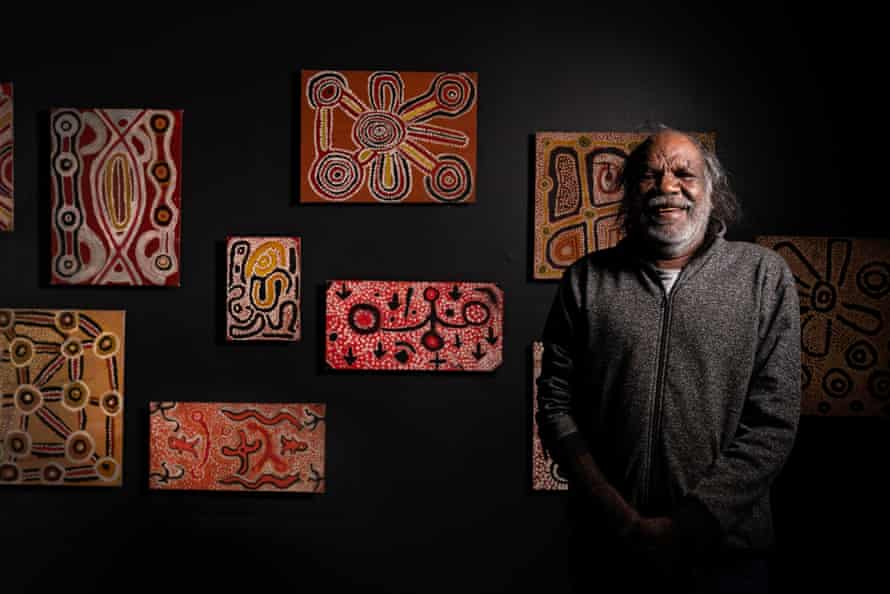 He has a picture of Balgo. It was taken in 1982, two decades before he got there. A pair of camp dogs looks on as men sit among the spinifex, painting the first fateful exhibition of Balgo art. The dull colors of the picture contrast with the liveliness of the desert land, and the paintings themselves are supported by the sun's rays.
These are the 1982 paintings that were lost, and the picture is how Karti knew what he was looking at when he saw them again in 2019.
In between lies the story of the Balgo artists.
Keeping our culture strong
In his book Balgo: Creating Country, Karti recounts how the first Catholic missionaries came to the area and asked for the name of the place. "[Community elder] George Lee Tjungurai said, "The old men thought they were referring to the grass! This grass was called parlku. And they said to Abi Barlku. And the father went and called the place air ».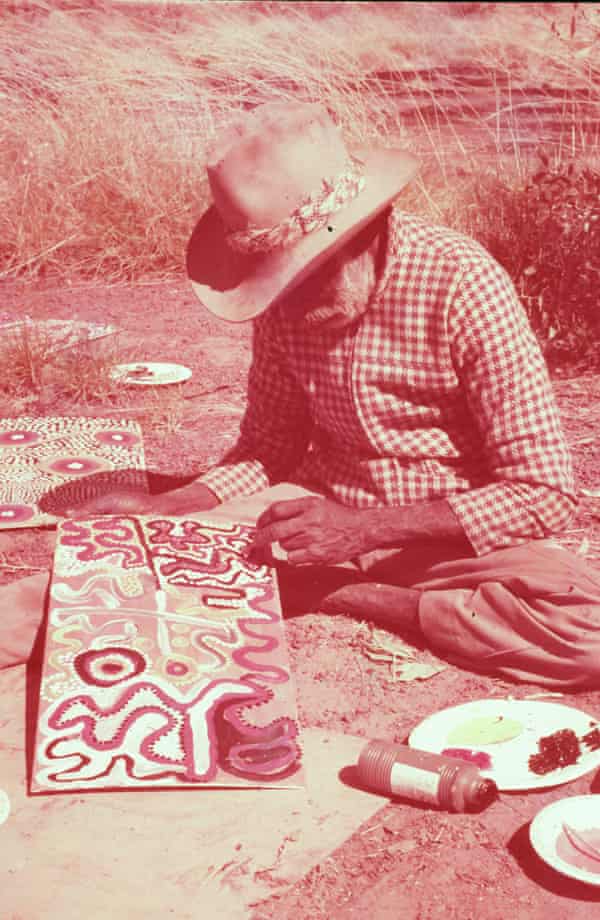 In the 1960s, the expedition was moved to a more convenient location nearby, but it retained the name. In the late 1970s, after their family lived in Paponia, the Balgo people became interested in painting. In the mid-1980s, Warlayirti Artists Aboriginal Corporation was founded, and the movement's influence grew.
Warlayirti artist Eva Nagomarra says people come from all over to paint in Balgo.
"In the early days we were painting. The cultural way. For ourselves…we did many landscapes at first. Then after that people painted a lot of paintings for the church. Then we decided we should paint our own painting now. Around Ngora and Tjokorba. Ngora are the places From which we came, our country. We came to the expedition from Kiwirrkurra, from Canning Stock Route, from Mulan Lake Country. All different families. All now to this country we call Balgo.
We have always enjoyed our culture. We never stop. We always dance, sing, teach our kids and keep our culture strong. Here at Balgo. We keep our celebrations, we visit our country. That's why we still live here. That's why we draw. This is the story of Tagamo and Tajitja [grandfather and grandmother]. We dug rocks and our waters where we used to live. We paint it. We have a bush tucker and lovely bush fries! We paint it. Balgo is the country for all of us now."
But when Karti arrived, he knew there were missing pages from Balgo's origin story.
"The story was always unsatisfying and vague," Carty says. "And this picture…we knew those paintings were in there somewhere."
Were they expelled? Picked up on the cheap? tucked away somewhere?
"They weren't in public groups," he says. "I looked for them, and I never gave up hope, it just felt like they were somewhere out there."
"But I felt like those first pages of Balgo's story were kind of uprooted and [there was] These mysterious legends about how I started painting."
Balgo artists have continued to create more vibrant and colorful works, based on the famous movement. Karti went to work in museums. Then the shipping container appeared.
"I clicked on these thumbnails in my inbox, and the pictures popped up, and the pictures of those spinifex paintings were surrounded by guys. I knew all of them. They all burned up in my mind because I was hoping to find them someday, so I just had to go back to that picture ', he says.
"They have been in this warp time, this cargo container for 40 years. In a black hole. Then the universe spat them out again."
The works were smeared with mud and molded shadows across curved points and lines, as the stories told by the paintings. Carte collected them and wrapped them "in his stockings and cylinders," he says, and transported them to the SA Museum.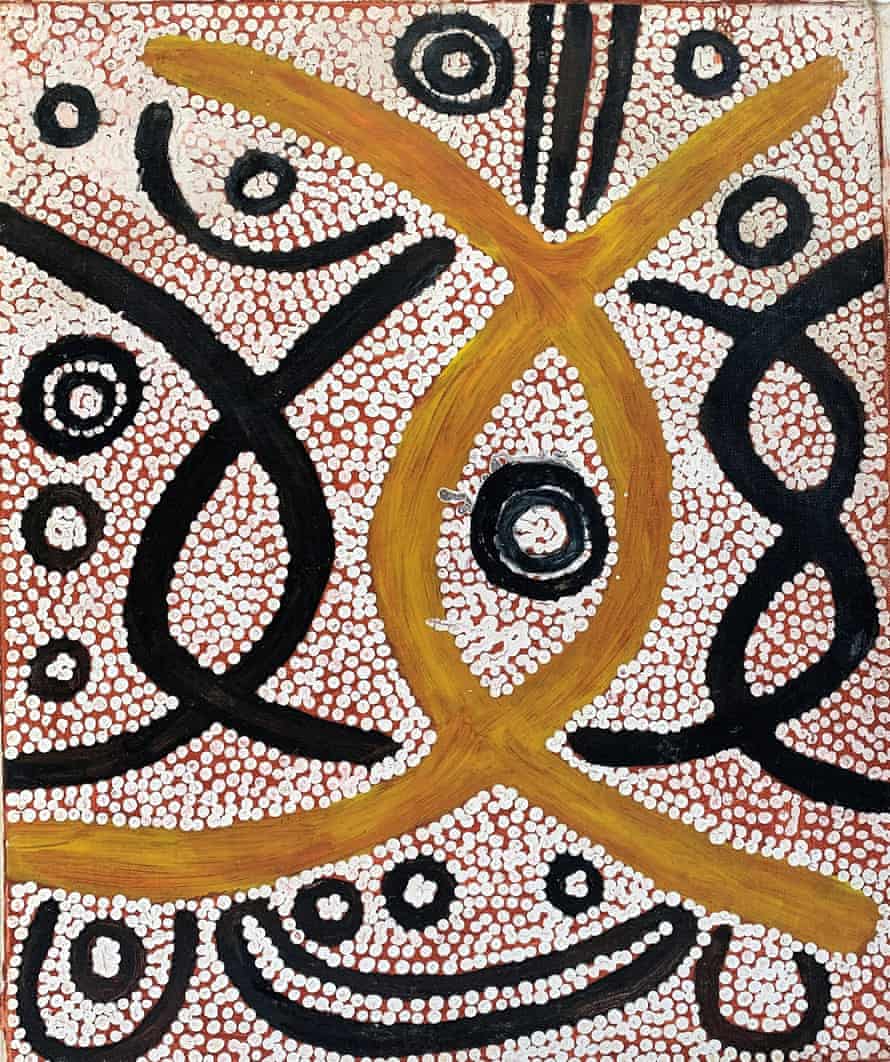 Cultural preservers from Artlab Australia went to work, and did their best to restore the artworks.
One of the paintings by Sunfly Tjampitjin in 1982 was a wrap of darkness around the bottom. Gary Njamme's work is in bright clear colors, only one side cloudy. Alan Winderoo's work, with just a hint of a shadowy shadow.
"They did something really beautiful and extraordinary in restoring those paintings, as close as possible to their original condition," says Carty. And while he believes the original stories are important, he says there is a danger in the fetish of the past.
So he went back to Balgo, to the sons and grandsons of the original artists, and asked them if they wanted to paint in response to those first paintings.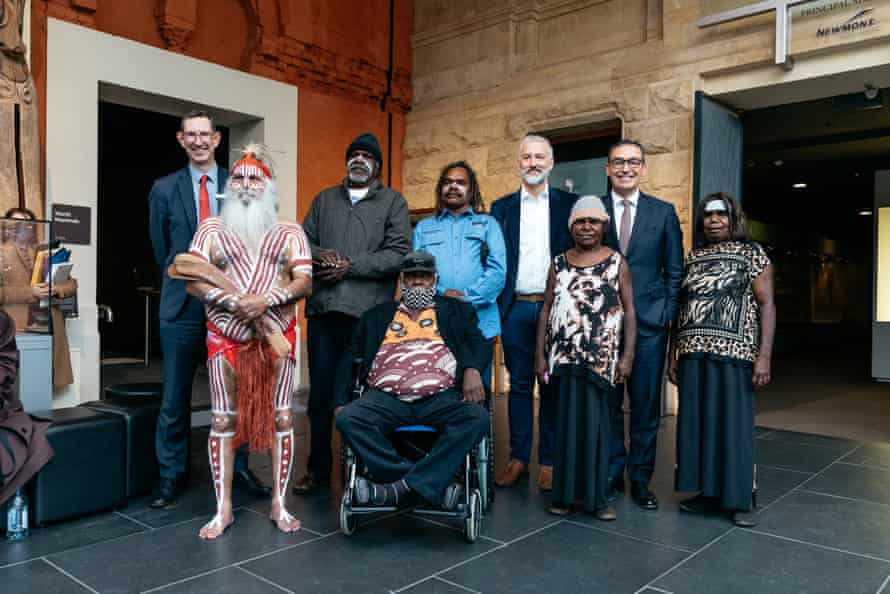 At Balgo Beginnings Gallery, existing paintings hang alongside new ones. Pauline Sunfly hangs alongside her famous father, Sunfly Gambittejn; Jimmy Chuga alongside his grandfather Alan Windrow.
Karti's book traces the development of art as people were attacked by colonialism, ranchers, missionaries, and the political, cultural, and economic turmoil they brought. It contains all those missing pages, where they belong.
"[People] They don't know that story, they only know the new paintings. "Our beginnings are lost," says Jimmy Chuga, Balgo's chief artist. "Now everyone can tell where the Balgo story began.
"I was glad to see my tamoe [grandfather] Winderoo's first board. I know that place, but I've never seen a drawing like this before. So she gave me [the] idea for drawing. I painted in a new way, in an old way, but new again."