San Diego ivory dealer forced to forfeit
Large illegal collection worth $100,000
A court has ordered a San Diego man who was selling ivory carvings in violation of the law to surrender his entire collection, which he was selling from his Carmel Valley garage to recruited buyers online.
Stephen Shu Wang, 54, must give up all of the 200 or so ivory artifacts and art pieces that were confiscated from his home by state Fish & Wildlife agents in 2020. The collection included chess sets, portions of elephant tusks, a room divider screen with panels made from ivory, carvings of the "eight immortals" of Chinese mythology, a statue of a geisha, and a variety of netsuke — miniature Japanese sculptures.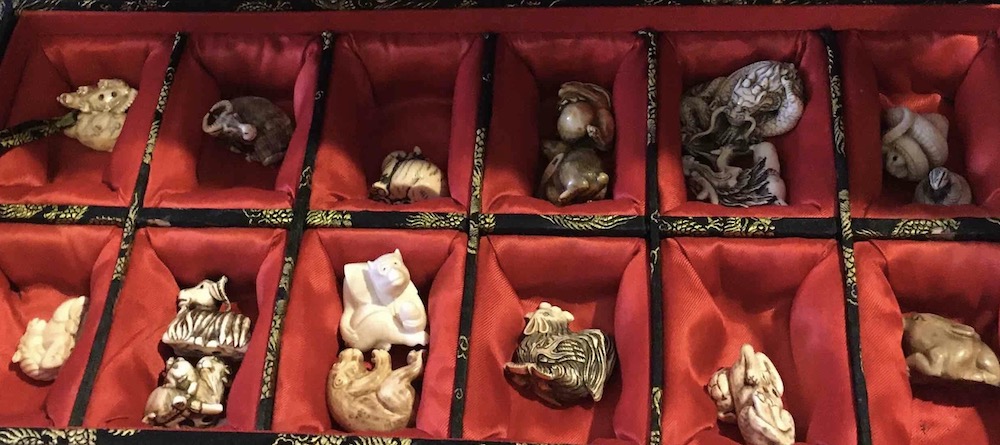 Altogether the collection would likely fetch more than $100,000 on the black market.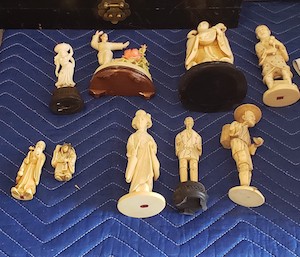 Wang faced a maximum penalty of eight years in prison, and fines between $40,000 and $320,000. The defense argued for diversion instead, which the court granted, over the objects of the San Diego City Attorney's Office.
The court ordered Wang to remain law abiding for a year, and to complete 100 hours of volunteer work with a nonprofit organization involved in animal conservation.
Purchasing, trading, selling, or possessing the ivory of elephants, rhinoceros, hippopotamus, and other creatures have long been prohibited by state, federal, and international law.
TOP of PAGE PHOTO: A carved tusk is one of the items confiscated from the home of ivory dealer Stephen Shu Wang.
---
Cargo transporters transforms fleet with
San Diego firm's virtual vehicle technology
San Diego's Platform Science has agreed to outfit Cargo Transporter Inc.'s fleet of nearly 500 tractor-trailers with its Virtual Vehicle platform that enables fleets to access telematics, software solutions, real-time vehicle data, and third-party applications directly from their vehicles. This allows fleet operators to make changes to their software solutions without needing to change any telematics hardware inside the truck. Cargo Transporters is a North Carolina-based truckload carrier.
"Cargo Transporters has a long history as an innovation leader, and we are proud to partner with them to elevate their fleet's capabilities," said Luke Wachtel, senior vice president for transportation and logistics at Platform Science. "We are powering the future of logistics by providing choice, configurability, and simplicity to both drivers and fleet operators. Working together, Transporter Cargo is now able to provide a seamless driver experience while deploying a diverse set of virtual applications chosen from a marketplace of both Platform Science and partner solutions provided."
---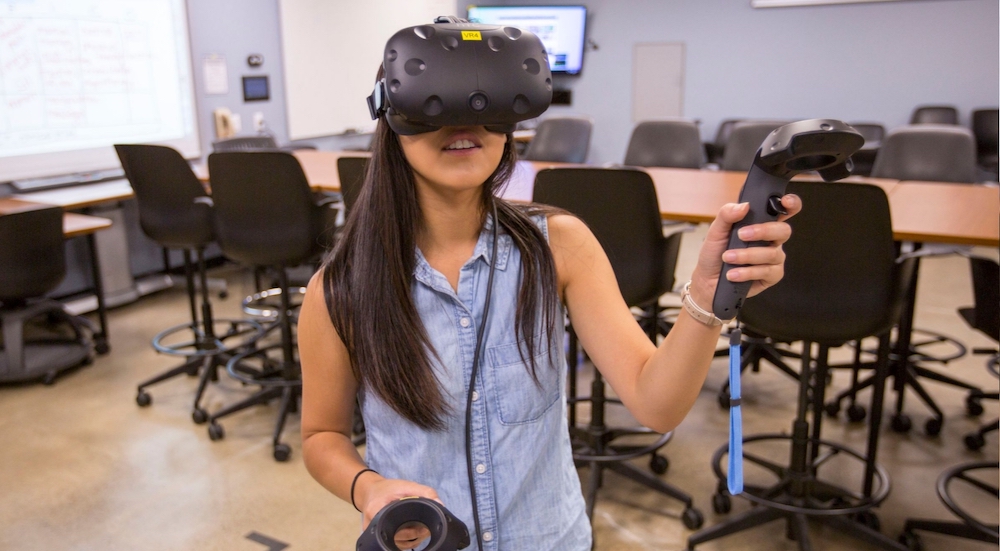 New SDSU research center focusing
On augmented, mixed reality
With augmented and virtual reality playing a larger role in everyday life, San Diego State University has launched a new research center dedicated to expanding the use of virtual technologies in the classroom.
The Information Technology Division has launched Virtual Immersive Teaching and Learning (VITaL) as a formal research center. Its faculty and staff will expand research to develop and integrate new and innovative teaching and learning practices, spark technological innovation and research in the field of eXtended Reality (XR). This includes virtual, augmented and mixed reality immersive learning tools.
The research center's faculty and staff will involve students in collaborative projects to design, develop, research and engage with XR while leveraging new technologies in hardware, software, artificial intelligence and machine learning.
Read more…
---
California signs Equal Pay Pledge
Building on previous actions to ensure gender and pay equity, Gov. Gavin Newsom, First Partner Jennifer Siebel Newsom, and the California Department of Human Resources (CalHR) announced the State of California has signed the California Equal Pay Pledge, an initiative the First Partner launched to close the gender pay gap.
Newsom also announced the creation of a new chief equity officer position to lead efforts to improve state hiring and other procedures with an equity focus, including efforts to achieve pay parity among the state government workforce.
"Signing the pledge and establishing a chief equity officer position are just the latest examples of our continued commitment to ensuring our state government workforce practices reflect the highest standards of economic, gender and racial equity," said Newsom.
The announcement follows the unveiling of the governor's California Blueprint, which includes a proposed $1.4 million package to improve awareness of state pay equity rights and inform enforcement efforts against those that violate equal pay laws.
---
Business owner Michael Monaco named
CEO of Chula Vista Chamber of Commerce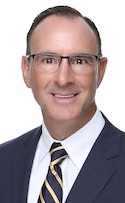 Michael Monaco, a Chula Vista resident, business owner and community advocate, has been named the new chief executive officer of the Chula Vista Chamber of Commerce by its board of directors.
Monaco is the owner and publisher of the online publication Our Hometown Magazine.
His extensive background includes past president of the Rotary Club of Chula Vista, board member and fundraising chair for the Chula Vista Public Library Foundation, board member of the Southwestern College Foundation, vice president of The Eastlake Business Association, and Board of Advisors member for the South Bay YMCA.
Monaco has been a board member of the Chamber since 2019, serving as the board's membership director since 2021.
---
Luminous Capital Management acquires Carlsbad
building for life sciences conversion
Luminous Capital Management, in partnership with Austin-based Virtus Real Estate Capital, has acquired 2290 Cosmos Court, a 37,300-square-foot industrial/R&D building in Carlsbad. The building, which until April 2021 housed operations of the global communications company ViaSat, was sold vacant by a partnership led by Los Angeles-based Excelsior Partners. The purchase price was $9.53 million, or $255 per-square-foot.
Having identified a shortage of state-of-the art lab space in North County, Luminous and Virtus plan to conduct significant renovations, including the buildout of wet lab and support space to ready the property for bioscience research and development.
Excelsior was represented in the sale of the building by Rusty Williams, Chris Roth, and Jake Rubendall of Lee & Associates.
---
US housing market has doubled in
value Since the Great Recession
US housing gained a record $6.9 trillion in 2021, nearly doubling what was previously the largest annual gain of $3.7 trillion in 2005. The full US housing stock is now worth $43.4 trillion, according to a new Zillow analysis.
Strong demand met limited supply in 2021, driving home values ​​up more than ever before — home values ​​grew 19.6 percent last year, an all-time high in Zillow's data, which dates back more than 20 years.
That rise means US housing is now worth twice what it was a decade ago, in the midst of the Great Recession. Zillow economists expect another strong year in 2022.
"Even in the context of a year in which several housing records were topped, the scale of the housing market's growth in 2021 is eye-popping," said Zillow senior economist Jeff Tucker. "Not only did prices rise faster than ever, but more homes were built than in any year since 2007 as builders raced to meet demand."
---
CUSO Financial Services in new
deal with IC Federal Credit Union
San Diego-based CUSO Financial Services LP (CSF), a subsidiary of Atria Wealth Solutions Inc., announced a multi-year agreement with IC Federal Credit Union (IC) to support and grow its investment services program. Established in 1928, IC now operates seven branches throughout Massachusetts, serving more than 33,000 members with over $580 million in assets.
The CFS' third announcement in the new year, reflecting the strong momentum behind the firm as the industry leader in partnering with credit unions across the country. The broker-dealer's exclusive focus on supporting the growth and success of credit union investment programs helps them best serve their members' evolving financial needs and differentiates CFS within the credit union segment of financial institutions.
---
---
Artificial intelligence startup
Rehinged launches Carenet AI
Rehinged Inc., an AI startup in San Diego that transforms external market data into actionable intelligence, announced the launch of Carenet AI, its market intelligence platform specifically built for the health care industry.
"The health care market is the perfect entry point for the commercialization of the Rehinged AI platform," said Jim Sagar, founder and CEO of Rehinged. "It's a 4.1 trillion-dollar market and 19.7 percent of the US GDP. There's a tremendous volume of data, a tremendous market need and tremendous value when providers are matched to the facilities with the greatest need."
Carenet AI is a new brand that speaks directly to the needs of commercial teams at companies selling into United States health care facilities. The platform is a complex cloud-based series of applications that turn real-time data into actionable intelligence for end-users.
---
Cubic earns top score in foundation's
2022 Corporate Equality Index
Cubic Corporation announced it received a score of 100 on the Human Rights Campaign Foundation's 2022 Corporate Equality Index, the nation's foremost benchmarking survey and report measuring corporate policies and practices related to LGBTQ+ workplace equality. Cubic joins the ranks of over 840 major US businesses that also earned top marks this year.
"This is a significant milestone achievement on our journey towards a more inclusive and equitable Cubic," said Leanne Gravett, acting chief of human resources and diversity officer at Cubic. "I am so proud of our employees who made this recognition possible, collaborating across the globe to evolve our practices and policies to better serve our dynamic and diverse workforce."